Delta Center Parking
There are several parking garages within a few minutes walk of the venue, listed below. As these spaces can become restricted on busy game days, another option for guests is to park further downtown and ride TRAX free to the venue. Whatever your choice of parking and travel, please aim to arrive early, allowing for delays.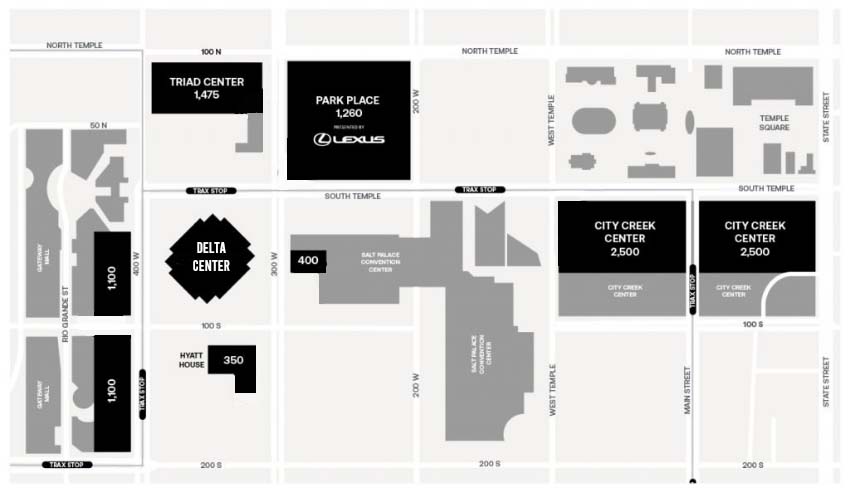 Private Parking
The Delta Center has ample parking choices within a two-block radius. This provides attendees with plenty of options to park within the area for close proximity to the venue. For guests who are keen on catching some dinner before or after the event or going for a short trip to the coffee shop, they can choose parking establishments a few blocks from the Delta Arena.
Here are some options for parking in private parking establishments. See below for the nearest parking lots and estimated walking times.
1. 34-42 N 4th W Garage
34-42 North 4th West
Salt Lake City, Utah 84150
0.16 miles – 4 minute walk
2. The Gateway Winter Garage
90 4th West
Salt Lake City, Utah 84101
0.10 miles – 2 minute walk
3. 1-15 S 500 W Garage
1-15 S 500 West
Salt Lake City, Utah 84101
0.14 miles – 3 minute walk
4. The Gateway Summer Garage
157-199 South Rio Grande Street
Salt Lake City, Utah 84101
0.19 miles – 4 minute walk
5. 460 W 50 N Parking
460 West 50 North
Salt Lake City, Utah 84101
0.19 miles – 4 minute walk
Public Parking in Salt Lake City
Parking in Downtown Salt Lake City has also been made easy through the ParkSLC App. You can now pay the parking fee through your smartphone. For a more traditional approach, visitors can still pay for parking via the meter pay stations.
Directions
If you're taking 300 W, you can catch one of the more popular parking spots, the 142 300 W Garage. Over the next block, on W and S Temple, you will see Capitol Parking. The prime location, which is just across the arena, allows guests to be in close proximity to the venue. Over on the other side of the arena, 400 W has two parking garages, the North Garage and the South Garage.
Electric Car Charging
Many of the parking garages around Delta Center have electric car charging features. Here's a list of where you can park and charge your car.
South Garage – 445 W 100 S
City Creek Parking – 50 South Main Street
American Plaza Garage – 255 S W Temple, Central City
Axis Garge – 76 Pierpont Avenue
Parking Recommendations
If you don't mind paying a hefty amount for your parking space, Capital Parking – Lot 5 is the best location in terms of proximity to the venue. It is a mere two-minute walk to the Delta Center. The good news is that all-day parking from Monday to Sunday costs a flat rate of $10. Right across the venue is the Salt Palace Convention Center, which also houses its own parking garage. It's a three-minute walk from the garage entrance to Delta Center. Depending on the day and duration of your parking, prices may vary between $12 to $20.
If you're keen on looking for lower-priced options, the Triad Center offers a $2 parking rate for two hours, with an additional $2 for each additional hour. This location is a six-minute walk to Delta Arena. Another affordable option is the Gateway 50 North Lot, but you may have to walk for nine minutes before reaching the venue. The parking rates of Gateway 50 North vary depending on how long you will be parking. The location provides free parking for cars staying for one hour or less. Then rates begin at $2 for vehicles parking for two hours. Prices vary depending on how long you will be parking.
If you don't mind walking for nine minutes to the venue, you can catch free parking on a Saturday; you can park your car at the 142 300 W Garage. The garage also provides free parking on holidays.